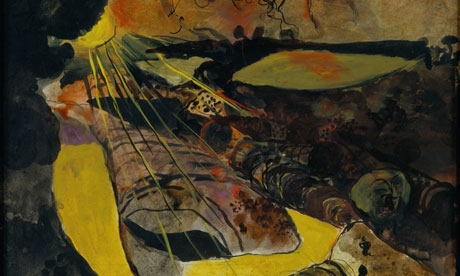 MOMA Oxford is showing over eighty works on paper by Graham Sutherland. The exhibition starts with paintings of the Pembrokeshire landscape, and moves on to Sutherland's work as an official war artist. The latest paintings date from the seventies, when Sutherland returned to Pembrokeshire after a long gap. Graham Shaw, contemporary artist and curator of the exhibition, comments in his accompanying film that Sutherland paints in a modernist idiom, while depicting the most ancient subject matter possible - a contrast perhaps alluded to in Sutherland's comment on "the precarious tension of opposites". The Pembrokeshire landscapes are deeply expressive: lanes, fields and hedgerows twist and fold in on themselves. There is an air of savagery and foreboding in the contorted forms, collapses of space and reduced palette, with blacks and sickly yellows often dominant. Many of the paintings are somewhere between figurative and abstract, as observations are warped, as if under intense emotional pressure, into writhing and jutting images which test our powers of recognition.
Organic, animal and industrial shapes all meet in Sutherland's formal vocabulary. The tubular forms of Sutherland's trees metamorphose naturally into screaming anthropic shapes and twisted girders; the abrupt perspectives of hillsides morph into the smashed buildings of the war paintings. These are images of exceptional brute force, and the absence of people makes them haunting. Falling walls, a collapsed lift and devastated cities seem to belong to the same story as the blasted trees and rocks of the land. I was particularly struck by the industrial landscapes, the cavernous tin mines and the depiction of a new coal seam being explored. Mining might be an analogy for Sutherland's work, which seems to burrow into the depths of the world, finding its skeletal structure and exploring its latent forces. Shaw sees some of the paintings as a journey from the visible to the invisible: landscape is a pathology,he suggests, the external signs of inner decay. But if there is a particular message here, it is obscure. There is a general sense of mysticism in the work, a turning inwards to forces which are often dark and menacing, but at the same time animating in their intensity and strangeness. In Sutherland we see the mystical fervour of Samuel Palmer, but the vision is different. His brooding romanticism points to Nash, Bacon, and through to Gerald Scarfe's artwork for
The Wall
. But at the same time he is deeply idiosyncratic. An unsettling and rewarding show of rather neglected artist. Great to see a contemporary like Shaw bringing him back to the light. Interesting reviews by
Laura Cumming
and
Richard Dorment
.