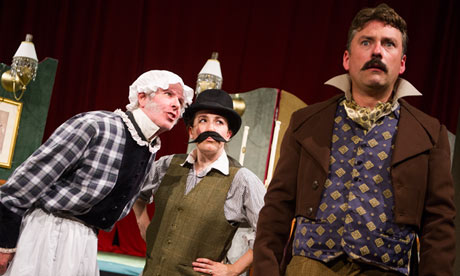 Four Victorian Farces
was a touring production by the European Arts Company, who specialise in small-scale work. Each play was 20-30 minutes long, and required only a cast of three, played with great verve by Richard Latham, John O'Connor and Asta Parry. Two of the plays were by John Maddison Morton (1811-1891):
Box and Cox
(apparently the origin of that expression) and
A Most Unwarrantable Intrusion
. Curiously, amid all the caperings, misunderstandings and masquerading we associate with farce we found ourselves here in a world only a breath away from absurd drama, Monty Python and surrealism.
A Most Unwarrantable Intrusion,
where a Mr Snoozle is interrupted by a man who ahs apparently tried to commit suicide in his garden, seemed weirdly close to modern plays like Pinter's
A Slight Ache
, and even ended with a kind of meta-theatre when the actors address the writer, anticipating the worlds of Pirandello and Ionesco. The other two plays were
Wanted, a Young Lady
by William E Suter and
Duel in the Dark
by Joseph Stirling Coyne, both of which suggested that the Victorians weren't as prudish as we might think. I loved the simple staging, the sound effects (scrunching newspaper for the sound of a fire, represented by a sock - it works) and the brio of the whole adventure. How were these one-acters originally staged, I wonder? As part of some kind of variety show, perhaps? There must be an enormous amount of Victorian theatre waiting to be rediscovered. And thanks to the efforts of the University of Worcester, it can be explored here:
http://victorian.worc.ac.uk/modx/